Here is a little something I did for my DT a while back. I used Cosmo Cricket's Wanted paper line, which I think I could use on every layout I do for the rest of my life and never get sick of it!! It is gorgeous! It is also my first attempt at printing on and using an inkjet tranparency. I used a few photo turns, as well as some chipboard corner flourishes from Buzz and Bloom! The journaling reads:
Full of hope, full of wishes. So much promise, in my little man. I wonder what you are thinking about? Now is the time to dream. Reach for the starts, and they will be yours, my sweet boy!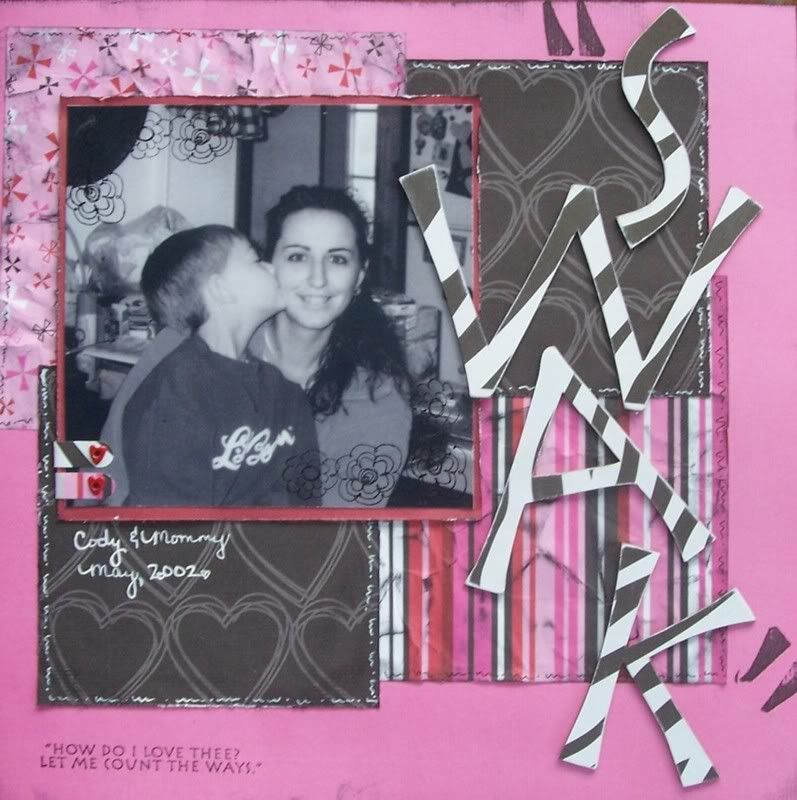 SWAK-
Sealed with a Kiss
is another DT layout from a while ago..I used Buzz and Bloom's XXL Rustic Chipboard Alpha, and Buzz and Bloom's UM Garden Sketchbook and XXL Rustic Numbers sets. The patterned paper is KI Memories. I am such a pink junkie lately. And with two males in the house, I get few instances to use pink in my scrapbooking! I have really been *LOVING* to stamp directly oon the photo lately, too! I took the plunge on this one and did a teenie bit of hand journaling. Michelle--if you see this, you are the one who started my goal of hand journaling on every page! I am trying to shy away from computer journaling because of you!! Thanks!