So, a couple weeks back, my younger brother shows up for a visit, and tells me how much he *LOVES* the dishcloth and scrubber that I stuck in with his Target giftcard at Christmas. I think he actually liked the dishcloth and scrubber MORE than the giftcard. If you knew him, you would not question this. He is a tall, muscular, macho, hard working blue collar builder, and he keeps everything in his apartment as neat as a pin! He loves to clean, and organize, and always has. Weirdo. No, really-so I ushered him back to my Craft Cave, and showed him the STACK of dishcloths I had sitting there, just waiting for a sink to call home. I gave him one, and he promptly told me that he would "save" it. Like, to use later, when his other one wore out, or something. Weirdo. He then says--can you make hats? As many of you know, I am a lover of hats. The weirder the better. Flappers, fur, strings, pom poms, camo, you name it. Well, Neil is the same way. So I decided to go in search of a hat pattern that looked easy, and that would fit the characteristics that he laid out before me. I love the challenge of making something new that I have never made before. I found a bunch of patterns at Crochet Pattern Central- and found one that I thought would work. I had to tweek it a bit, since it was for a skull cap, and he wanted it to go over his ears, but it told how to make it longer, so I was set. I made up a practice one for me-orange, pink, and yellow-and did it as a skull cap, following the directions perfectly. Then I would know how and where to add extra rows, just kind of as a baseline. I got a bunch of yarn last weekend, and decided to make a couple more hats for practice before I get to Neil's. The camo yarn I chose was not like anything I had used before. The stitches were so hard to see. So here are Cody and Peter's matching hats-and Neil's will begin today. The pom pom was a must-and it had to cover the ears without flaps or a fold....picky, picky.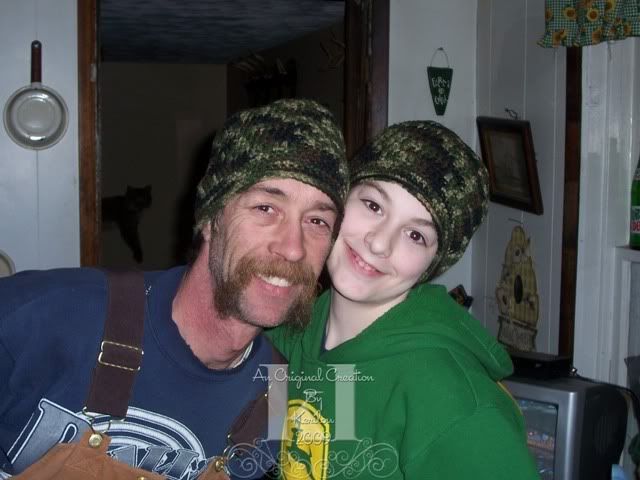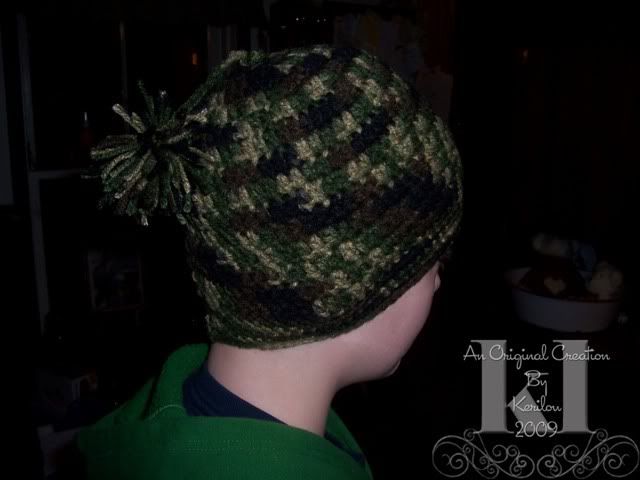 Don't they look cute? I am finding that I like to work with 100% cotton much better than the acrylic! What a difference! They are happy, and that makes mama happy.
I also made a set of friendship/thank you notes for a few of my closest friends. They should have gotten them by now, so I feel fairly safe posting a pic!



Paper is Basic Grey Ambrosia SU! Black and Going Gray Cardstock, SU! Basic Grey Ink, Staz On Jet Black Ink, Stamps are Purple Onion Designs (flowers and number run) and sentiment is $1.00 from Michael's.
Punch from SU! for notebook holes.
We are home today on a snow day. The snow hasnt' really arrived yet, but I guess they are being pro active. I hope to get some treadmill done and get to the store for milk before it gets too bad!
Happy Wednesday!
**Keri**