I rec'd so many birthday cards, that I will have to split this post up into two sections! One today, one *hopefully* tomorrow! This is the wreath that I rec'd from JudyB. She made it! It is so gorgeous, and the flowers look SO REAL! It is hanging in my kitchen!


And this is the card she made for me, and sent along with the wreath. I see some SU! Big Shot dies in my future, after seeing this card!


This is the card that Peter made for me! I came home from church, and there it was! I had a momentary lapse of a heartbeat, thinking of him digging through my "stuff" but it went away rather quickly when I realized how sweet and out of character this was for him!!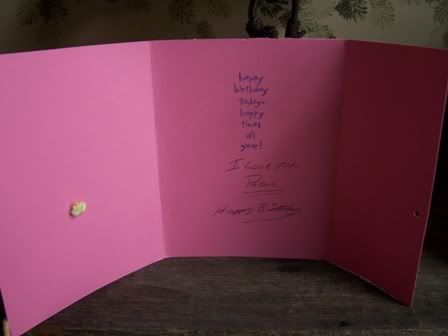 This is the card my friend Peggy made for me. She says she feels intimidated when she has to make me a card...I think she is nuts...I love the card, and the colors..so much work!!


So that is part one of my birthday goodies..tune in for more very soon!
Have a blessed Monday!
**Keri**