The winner of the Cuttlekids set is Judy! You can check out her blog HERE. Congrats Judy! Judy is a close friend of mine, and also my SU! Demonstrator! I will get it out to you directly, Judy!
Yes, my Grandmother is Omi. Her name is Naomi but Cody shortened it, and it stuck!!

Now, in honor of this beautiful day, and also because I just got home from church and passing out these things of beauty--say hello to our church's new directory!! We were long overdue for one, and my friend Peggy and I took on the challenge. After many, many months of work and distraction, we finally completed them Friday night! We gathered everyone's contact information, compiled it into book form, along with birthdays and anniversaries, and a prayer chain. We printed the text of the covers on white cardstock, and then a group ladies-Peggy, my Mom, Diane (Pastor's wife), Lynne, and I all stamped all of the 100 covers with SU! Roses in Winter stamp set. It was time consuming, but oh, so worth it! Peggy then cut them, and bound them with a static cover for protection from marks and water! Everyone this morning at church loved them!
The top photo is of the roses in pink-the one I chose for myself. You can see how we stamped the sheet of cardstock up the middle, and across the bottom. All of the covers were stamped BEFORE they were cut.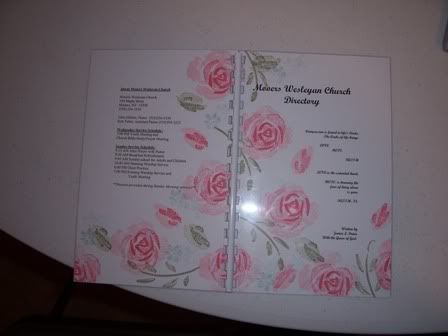 Here is a pic of the 100 directories, in the 8 different colors we used. Which color do you like the best??


A big thanks to all my ladies, who helped us out, so much!! We are DONE, Peg!!
Have a blessed Sunday,
**Keri**