IT'S FRIDAY!!! IT'S FRIDAY!!! IT'S FRIDAY!!! IT'S FRIDAY!!! IT'S FRIDAY!!! IT'S FRIDAY!!!

It has been a long time since I was THIS excited for a Friday. And I don't even have any plans for the weekend! It has been a LONG week here, for Peter and for me. Peter has been stripping old shingles and putting a new shingled roof on his boss's house--bless his boss for trying to keep his men working as long as possible-his house is on Lake Champlain, and Peter is on his 5th day on the roof. The first few days were wicked cold-like nearing zero, highs in the teens. So between the cold, and the stress he is putting on his body walking and standing on a roof for 10 hours a day, he has about had it! His hands are cracked and really painful. His hands are always terrible, but worse than usual. He expects to be done the roof today!!

I have had an unusually busy week with my daycare. I usually have all of my kids part time, but circumstances allowed for me to have them all full time this week--I am SO not used to it!! I usually have a day off here or there to regroup!! I would love full time much better--I thrive on a strict schedule! I have even managed to get up and walk on the treadmill before the kids come each morning!

I did manage to get my craft room cleaned up this week, and have had a very productive week, I got some personal crafting done, as well as new items for my Etsy shop.

Here are three cards that I made this week:
This first one is a twist on one I did last fall-this time I used popsicles (Purple Onion Designs) in place of the balloons from the last one. Each popsicle was colored in using Prismacolors and Sansodor, they were then outlined with a clear Stardust Pen, and I topped them off with Crystal Effects. I also embossed the white background piece with a Cuttlebug Embossing Folder.

Colors used:
SU! Black, Orchid Opulence, Tempting Turquoise, Green Galore, YoYo Yellow, Only Orange, Pixie Pink, GP White.

This next one I made for my manly man card stash. I used SU! Retired stamp set Wildfowl. Premade brown card base. Patterned Paper is BG and I punched the circles out and ran them through my Xyron X. I refrained from ribbon--although the thought did cross my mind, I thought less was more on this masculine card!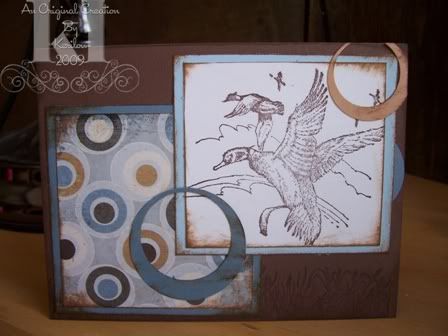 Colors Used:
Bashful Blue
Buckaroo Blue
GP White
Creamy Caramel
Chocolate Chip and Vintage Photo inkpads
SU! Circle Punches

The last card I made, uses some new patterned paper I just rec'd. It is called raspberry tart from SU! The stamp set was a SU hostess set called Serene Spring. I embossed the background with Swiss Dots embossing folder in my Cuttlebug, and punched a scalloped border on the edge.

Colors Used:
Kiwi Kiss, Rose Red, GP White
The image was stamped in Basic Gray and colored in using Prismacolors and Sansodor.
Scalloped squares are Cuttlebug Dies, and Happy Spring Sentiment is Purple Onion Designs



Thanks for stopping by, and have a blessed weekend!

**Keri**