Good Wednesday morning! I trust everyone has recovered from your long holiday weekend by now? I would like to thank everyone who visited my blog during the Cards For Heroes Bloghop. It was a HUGE success! Thanks for all the wonderful comments on my post. It is appreciated! On Sunday, Cody and I went to a birthday party for Emma, who turned one! (Hers is the room I painted and posted last week.) I decided to make her card, a gift, to match her room! Here is the card I made:
This is what i used:
Cardstock:Pink Pirouette, YoYo Yellow, Tempting Turquoise, Green Galore, and GP White
Ink: Lavender Lace, Pink Pirouette, Green Galore, Tempting Turquoise, YoYo Yellow
Stamps: SU! Flight of the Butterfly, Happy Everything
Other: Pink sheer dot from Michaels (Dots, Dashes and Checks) Cuttlebug Embossing Folder, 3-D Glue Dots
For Emma's gift, I made a sign to hang on her bedroom door! I took the pattern from the butterflies I painted on her walls, so it would all match. Instead of putting a sawtooth hanger or a wire on the piece, we bought a wreath hanger and cut the curved end off it, and screwed the butterfly to the end. That way, they don't have to put a whole in the door for a nail, and it won't bang when the door is opened and closed! I highlighted the flowers with glitter, and then sealed it with a clearcoat that had more glitter in it. We also added pipe cleaners for cute little curly anntenae!!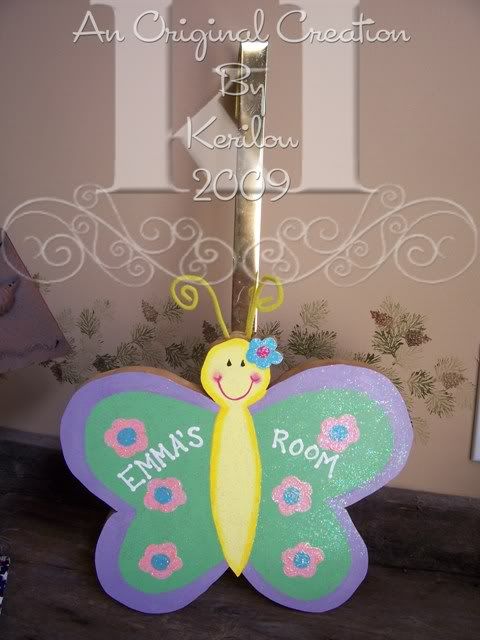 Here is the view from the back!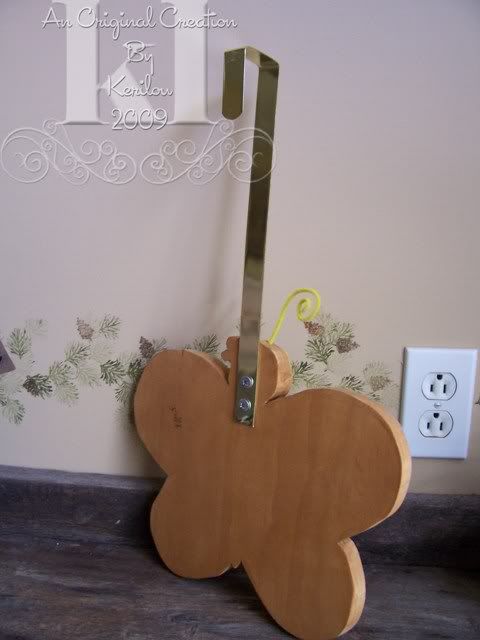 That is it for now, we are expecting rain for the next three days, so I don't expect to get much done outside!
Have a great day!
**Keri**