Well, everyone knows I have been MIA lately. I have been fighting allergies, and a bit under the weather, but I have also been working on the *biggest* project I have ever done!
A couple weeks back, I got a call from Kim-(her hubby and my hubby are cousins) asking me if I thought I could paint a design on her daughter Emma's bedroom walls, to match some furniture they had recently gotten for her. They re-decoratied Emma's room, cause yesterday, she turned ONE! They thought it was high time Emma had a girlie girl's bedroom! They had the cutest toy chest, and table and chairs set, with butterflies and daisy faces on it. I took patterns off the furniture, and got to work! It took me a week off and on, but I finished last night, and it is SO adorable!
They painted the walls pink ahead of time, so I had a wonderful blank canvas to work with. Here are several photos from different views of the room, along with a close up of one of the butterflies: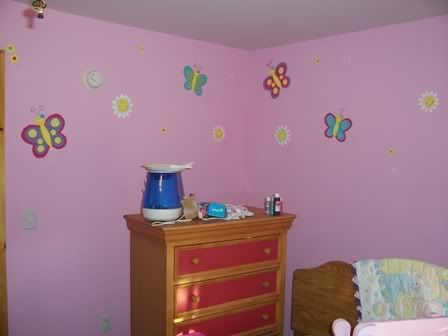 We also put her name up on the wall, in between the two windows..
It took about 15 hours to complete, from beginning to end. I added some brush on glitter here and there, on the name, and on the butterflies and daisies, for a little sparkle. It comes in a 2 oz. bottle and is in liquid form, so once it is brushed on, and dries, it won't flake off.
She was very happy with the results! It was a great experience, and something that I have always wanted to do, but never had the opportunity. So thanks, Kim, for believing that I could do it!! I appreciate the opportunity!
Happy Birthday, Emma!
xo
**Keri**