Hello! Hope everyone had a fabulous weekend!! We made a trip to the city to get some groceries and order a new rifle. It was a nice, stress free, weekend!
I though this morning, that I would showcase a couple of crafters in my family, my hubby, and my Mom!
My Mom knits. For as long as I can remember she has been knitting. Now, however, it is difficult for her to do bigger projects, because she has arthritis in her hands really bad. She makes little Christmas tree ornaments, and baby booties, for the majority of her projects. But she has made hats, mittens, blankets, scarves, etc. All through my childhood, she made our slippers. Just a glorified bigger size of the baby booties. They were the BEST slippers ever! Well, my last pair, that was probably at least 5 years old, had a giant hole in one foot, and an almost hole in the other foot. I finally got the courage to ask Mom for a new pair-the old " If I buy the yarn, will you make me a new pair, pleasie?" line--all the while batting my eyelashes and being on my best behavior--which is still a trial at 33!! I got the yarn back at Christmas time, and left it and told her to take her time, I was in no hurry. Well, I dropped her off at her house on Friday night after a night out, and what was sitting on her kitchen counter waiting for me??? Yay!!


I was like a kid at Christmas!! It has been so long since I had a new pair! Do you like the colors I chose? THANKS, MOM!! They are beautious!! I have a problem, though...They are SO pretty and SO perfect that I don't want to mess them up!! Ten minutes in this house and they will never be the same! I told Mom that she either had to make me a lifetime supply of slippers or teach me how to make them myself. Peter suggested a giving her a cartful of yarn and a couple bottles of Aleve and letting her go at it, but she didn't think that would work. The LOVE of a son in law, huh? So, Mom has very nicely said that she will teach me how to knit!! She has tried in the past, with little success, but I was younger and not very ambitious. I am quite excited, and very focused on doing this. That way, I can make everyone slippers for Christmas!! Wish me luck!!
Now, believe it or not, my macho, wilderness loving, mountain man looking hubby, is actually a bit creative and crafty!! Of course, all roads lead to hunting and outside in his world, so his craftiness does have to do with dead animals, as does everything else, but check these out!!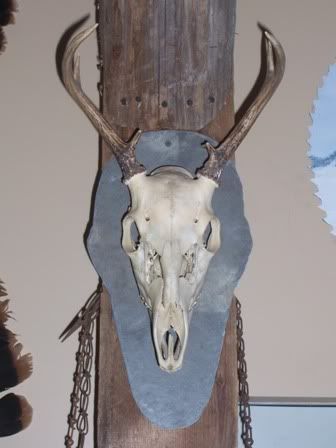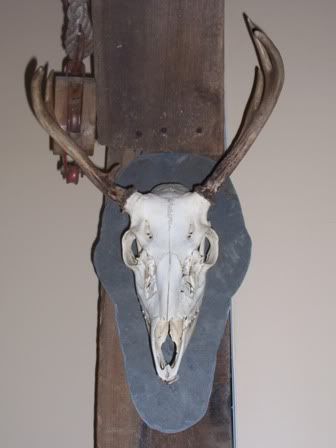 The top pic is of horns that were too small to mount the entire head. He cut the plaques out, mounted the horns on a scrap off wood, shaped the drywall mud into a perfect mound, covered with fabric, and mounted it on the plaque! I did paint the black edging-so I had a tiny part in it. He is the wall painter, I am the fine painter!! The arrow shaped one he killed WITH his bow.
Now, there is also another stage in deer head display. Too big for just horns on a plaque, but still too small to get the entire head mounted. The top skull was done by the taxidermist. But it still costs a LOT of money, just to get the skull. So Peter did the second one, himself! I won't get into the gorry details, lets just say, it is done OUTSIDE and not in the house. They both look pretty much identical! Peter then got a pattern for the slate, and cut the slate out, and mounted the skull on the slate backing!! He is pretty proud of his craftsmanship, as he should be! He did a great job!
So that is it from here!! I hope everyone has a blessed Monday, and entire week!
**Keri**