Okay, so I lied! It's something more for Thanksgiving! Here is a Thanksgiving card I made, using Thanksgiving Toile from CTMH. I have a great passion for anything Toile, and have managed to hunt down all the toile sets from SU!....I have seen a couple of Thanksgiving Blog challenges out there, and figured I would tie them in on this post. First of all, I am so thankful this year. I think the older I get, the more clearly I see how important certain things are, and how material things are not so important. I am so thankful for a loving, caring husband, and a polite, giving, helpful son. I have wonderful friends and neighbors, and a great family. Everyone is always so supportive, and willing to lend a helping hand to each other. I am SO thankful to have such a great circle of scrapping/stamping friends, from my Pea girls, to my buds at SCS, Two Peas, Buzz and Bloom, and my own personal group of friends here at home that I have ushered to the dark side! I am thankful that even though times are tough, we have enough to keep us warm, and fed. I am thankful for my new niece, arriving anyday now, along with my other 14 nieces and nephews! I thank the Lord for health and the happiness he gives me every day to go on, and I thank him for all my blessings!
The second challenge was to talk about charities we support. Well, it took a little thinking, but I came up with some that I work with, or support. First off, Samaritan's Purse has a wonderful gift giving program! You can give gifts to impoverished people in different countries, in a loved one's name! From a dozen chickens, to a church, there is a vast price range. Literally a couple of bucks to $50,000.00. The site is
www.samaritanspurse.org
. Check it out! They will even send you gift cards to give your recipients, so they know what you have given in their name! I am giving in several people's names this holiday season!
Another thing I support, or actually run, is my Wesleyan Church's card ministry! We run off donations of supplies, and money to buy supplies. I, along with my mother and a friend, keep card racks in the community room, and two adult Sunday School Classrooms stocked full of cards. This way if there is a need, it is met! All a person has to do is grab a card, and an envelope, fill it out, and send it! It has been such a blessing to people who are unable to get to church, or have been ill! We have literally made a given away hundreds of cards in the past year and a half!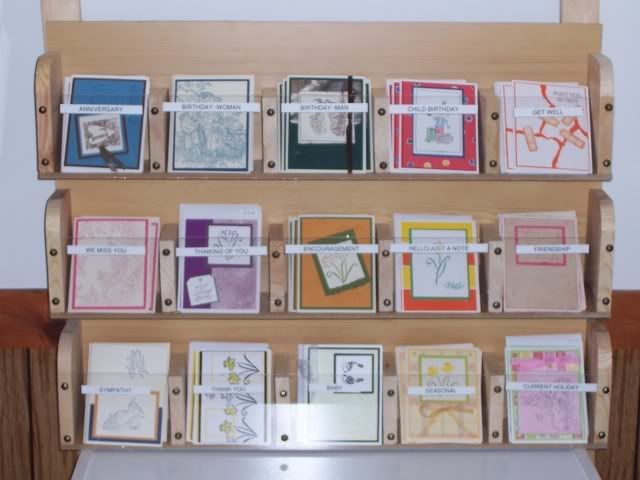 The last thing the I support, and help with, is a community food pantry. It has really opened my eyes to how hard things are out there. The food shelf is housed in our church, and is run by my mother and father. They feed about a dozen families a week. That includes frozen foods, toiletries, some cleaning products, and food. Usually a box and two bags of goods. The need in the community, and surrounding areas is huge, especially with the holiday season coming up, and the price of fuel so high. People are having to choose between gas/fuel, and food! It is a sad state. So I do what I can to donate, as well as help with pick ups of food at collection sites. Alot of time I am the workhorse, but it really gives me a good feeling, to know I am helping!
Happy Thanksgiving, Everyone!