If what's her name can be bootie-licious, then I figure Brodie can be Brodie-licious. In honor of her recent visit to the vet and very full and active recovery, I created a new layout! It has been a while since I did any scrapbooking, but I love how this turned out!! I got some Autumn Leaves clear stamps months ago at Walmart and finally opened them and got to use them!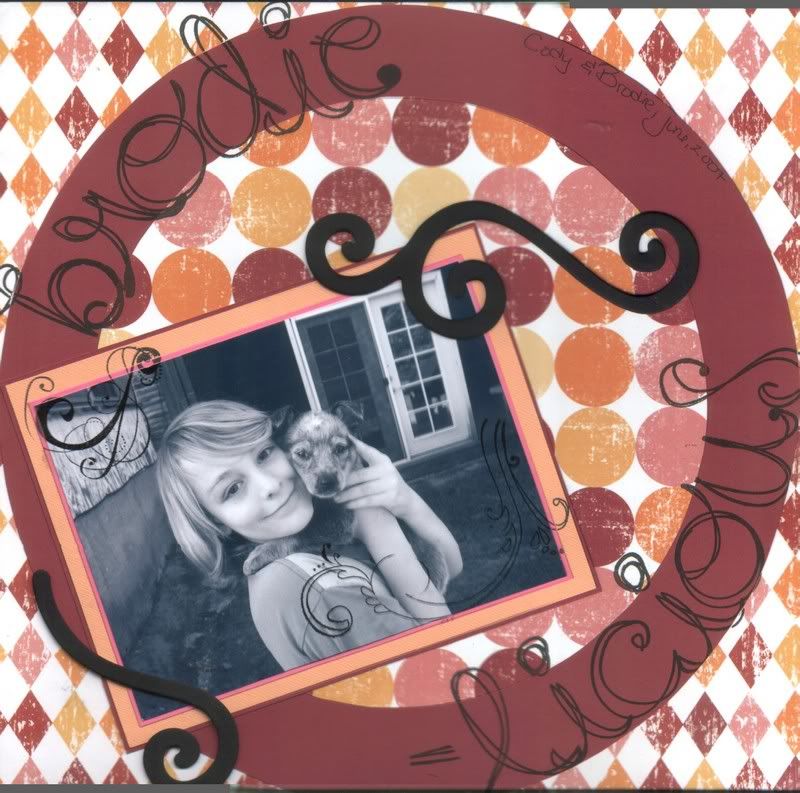 Here is what I used:
Patterned Paper: Scenic Route
Cardstock: Doodlebug Bazzill, SU!
Stamps: Autumn Leaves Alpha and scrolls
Chipboard: (don't remember!!)
Ink: Versafine Black, Staz On Black
I love how the acrylic stamps worked with the versafine ink! I have not played with acrylic stamps much, and had heard about how hard they are to stamp using dye ink, so that will be my next project.
On a few side notes:
**Peter is back to work once again! He is up in Lake Placid, helping to rebuild the Lake Placid Lodge that burned a few years ago. When it re opens, they will be charging $2000.00 a night, plus an extra $500.00 for your dog...WHAT??? He is going between there and a big add-on at Champlain Valley Physicians Hospital in Plattsburgh. Hopefully these two jobs will keep him working all winter!
**As many of you know, our family suffered a terrible tragedy back in May when Peter's cousin was murdered. I don't want to say a lot about it, it is not my place to do that here, but I wanted to share with you just how generous and giving our community has been in these past months. We got word last night that a golf fundraiser put together to help the family raised a "substantial" amount of money last weekend. The Gibson Brothers also put together a benefit concert with all proceeds going to a scholarship fund per the family's request. They too, were very successful! This has been a horrible few months, but the accused was just indicted by a grand jury, so that is some good news. It is so heartwarming to know that the community is being so generous and caring.
**My surgery was fine, and I am all recovered! Thanks for all the inquiries and well wishes.
**We said good bye to my nephew last night, he is leaving this week to go to heavy machinery school in Virginia. He was 4 when I met Peter, now he is all grown up! We had a nice picnic last night, and saw him one last time before he leaves. It was a great night, but sad for an auntie!!
Guess that is it for today. Thanks for visiting, and have a Blessed Wednesday. --Keri