I finally put together a few pictures for you to see our progress on our new family room. This has been a long time coming, for sure. We started it several years ago, and did what finances allowed from time to time. It is going to be a family room, along with a room to display all of Peter's hunting trophies that he has accumulated through the years. It is going to have a Rustic Adirondack feel to it-with many things in it that have sentimental value. Here are some photos from 3 years ago...

We bought my grandmother's house from my parents when she moved in a senior housing building nearly 10 years ago. This was originally an old woodshed when I was a kid. Literally packed full with wood for the two stoves my grandparents had in the house. After my Grandfather passed away, the woodshed was made into a one car garage from my Grandmother. It was a tight squeeze, needless to say! We used the garage for a while, but we bought a different car that was a tad too long, so we decided a new garage was in order. Not only because the car wouldn't fit, but the old garage was not in the best shape! We had to shore up walls, cut through cement-any and every situation came up with this room! We took out the overhead garage door, and the garage door opener. We ripped out the steps and made a new landing. We still have no steps. I have been climbing a ladder for over 3 years to get into my kitchen from our new garage!! There was a ladder that accessed the attic that was torn off (other access upstairs) and the chimney was ripped out this summer. We didn't want the clean out inside our family room, so we put a new stovepipe in another location...You could literally see daylight through the wood walls, it was so bad!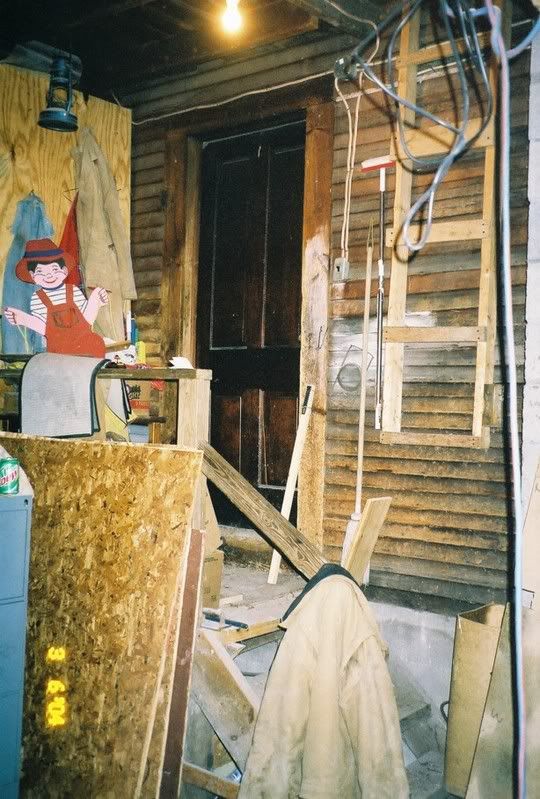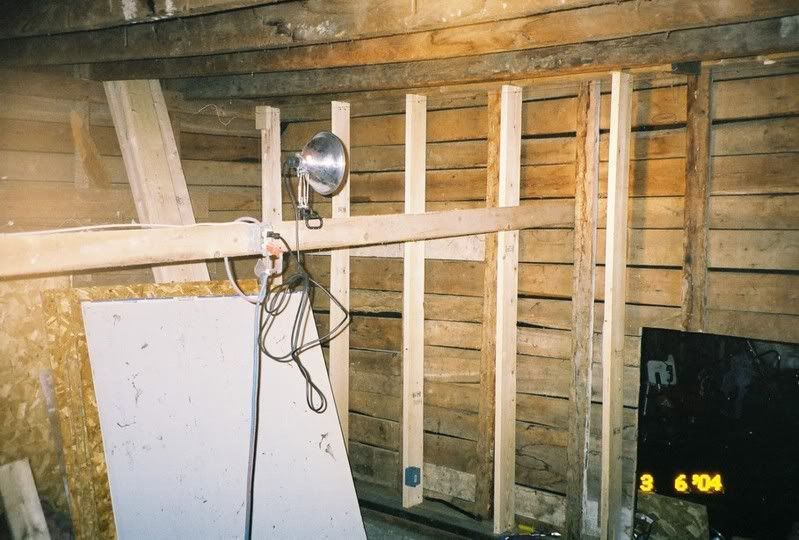 Here is what it looked like after Peter re-inforced the walls, and sheetrocked everything. The ceiling even had to be insulated, covered in plastic, and sheetrocked. The ceilings are 10.5 feet high. The room is off our kitchen, and you have to walk down half a dozen (give or take) stairs to get down into it. There is one tiny step up into the room from the french doors or the garage entrance.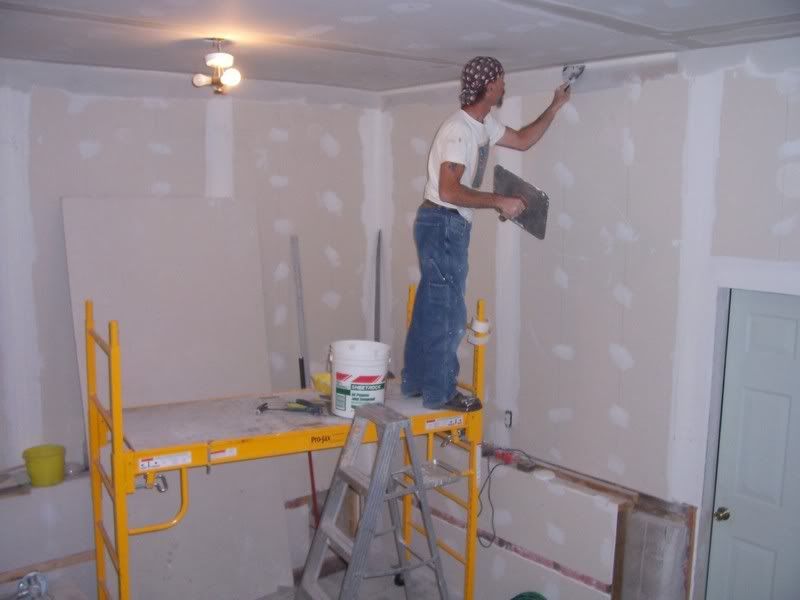 This is closer to how the room looks now! We got some paint, and it is looking better! We kept the old door casing, but just took off the heavy door and the screen door last night, so now it is just a doorway. The house was an old farmhouse from 1910, so there is still some great stuff like the old worn door casings that I wanted to keep.


Here are the barn beams that we put in the room. One up each side wall with a main one across the top. We will also make the stairs out of the beams. They came from my Grandfather's grainery on his farm next door. The neighbor's let us take the beams and barn board so it is like we have a little piece of him in our new room. The chandelier my mother in law gave us a couple years ago for Christmas. It has crystals to hang on it, but I plan on leaving them off...to ritzy for us! It holds glass cups and votive candles. It is hanging on a wooden peg that goes through the old beam across the ceiling.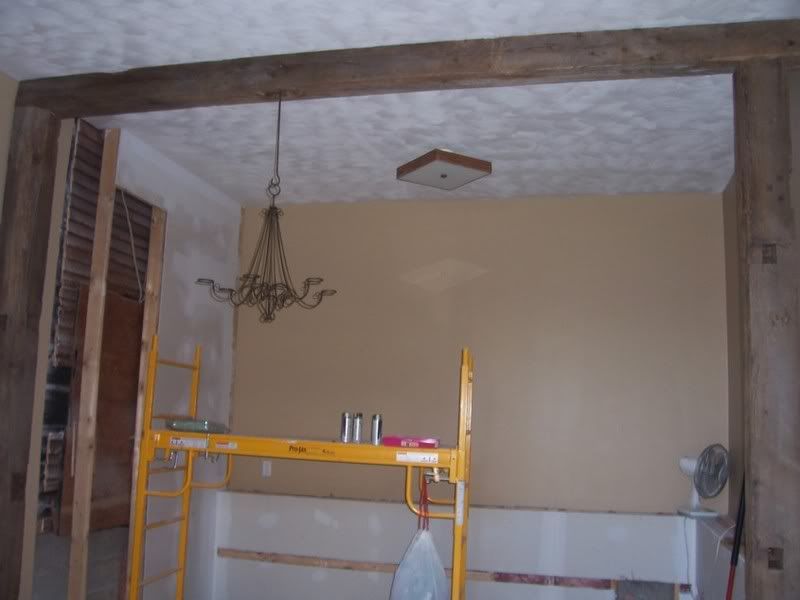 Here is the set of doors and the window we put in above it. It will let a lot of sunlight in during the day.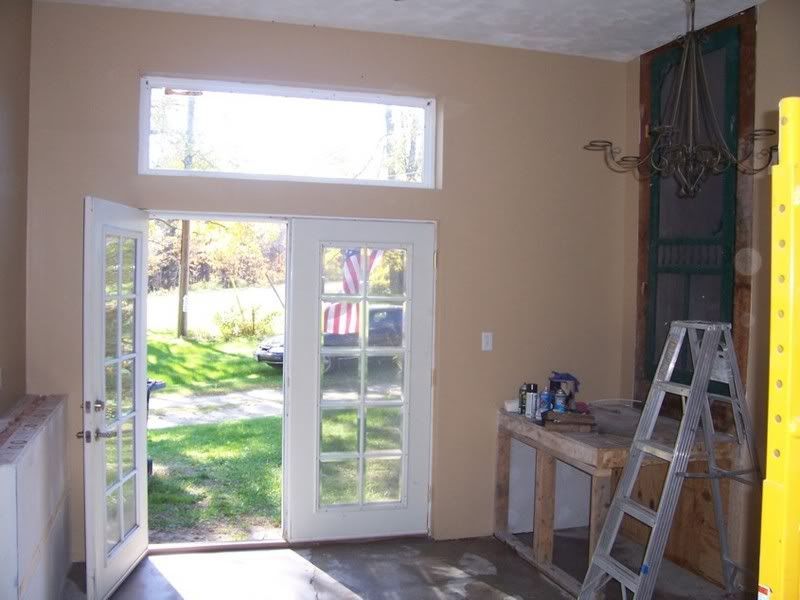 Here you can see how the ledge is going to look. The cement goes up to about waist high, and we had to cover it up-so we decided to case it in. There was really no way around it-just how the building was constructed.


This is where the chimney used to be. Peter had to wait to finish the section of wall til the beam was put in, cause he has to butt the wall up to the beam, the walls come out two different distances. Ah, the joys of an old house!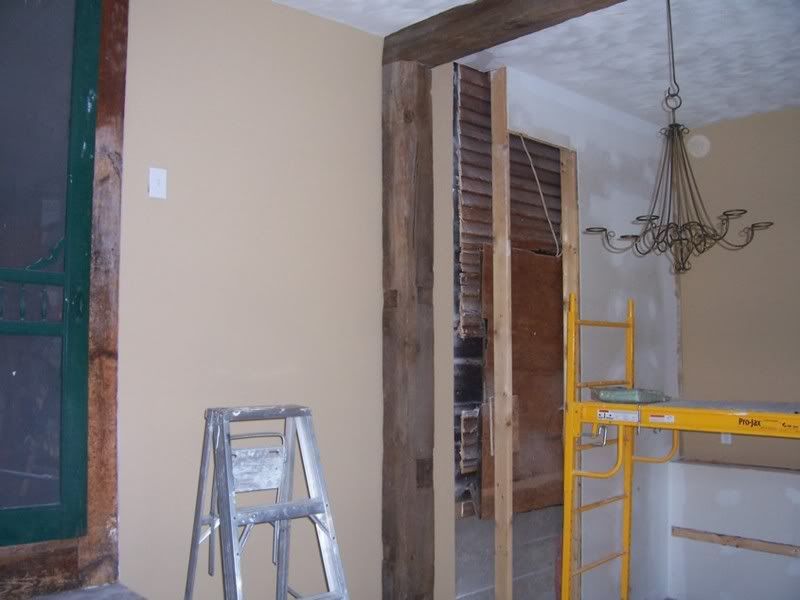 Here is a view down into the room from the kitchen door.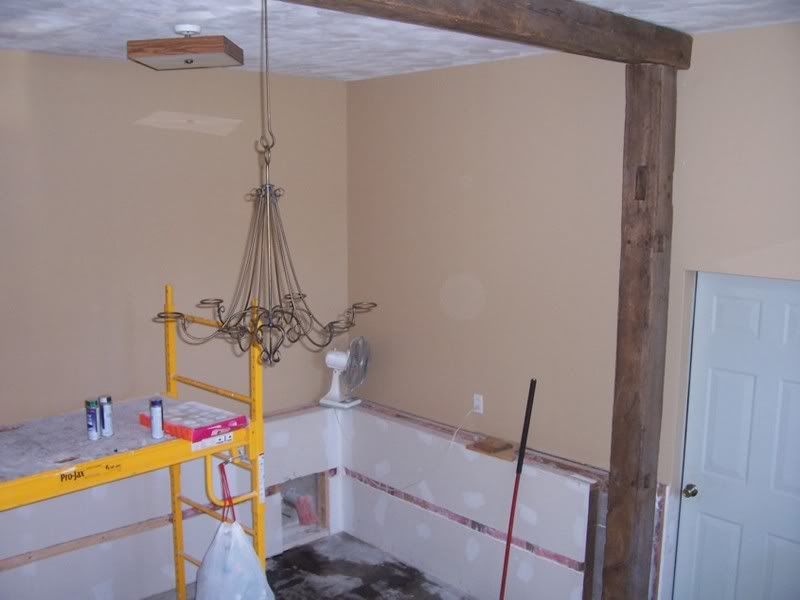 Last but not least, here is what the lower walls will look like when they are done! We took the barnboard off the grainery and stripped the old cedar shakes off it, and are using it to cover the walls, and as a shelf.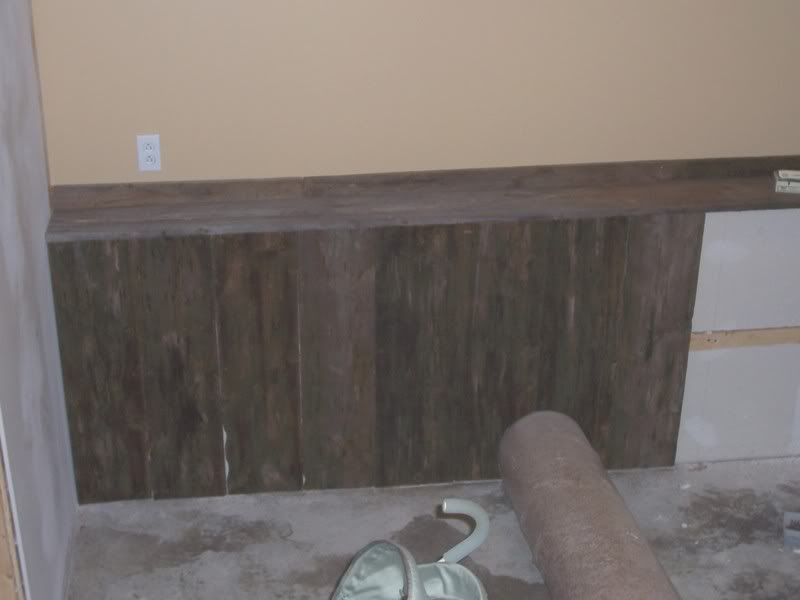 So, there we have it...things are picking up a bit again now that the wood is up, and the chimney is in, so hopefully we will be done sooner than later...We have the carpet, so that was our last big expense. Directly above the barnboard shelf, I am going to stamp a small border of pine branches and cones. I can start that soon! Thanks for looking, and putting up with my excitement...It has been a long time coming!