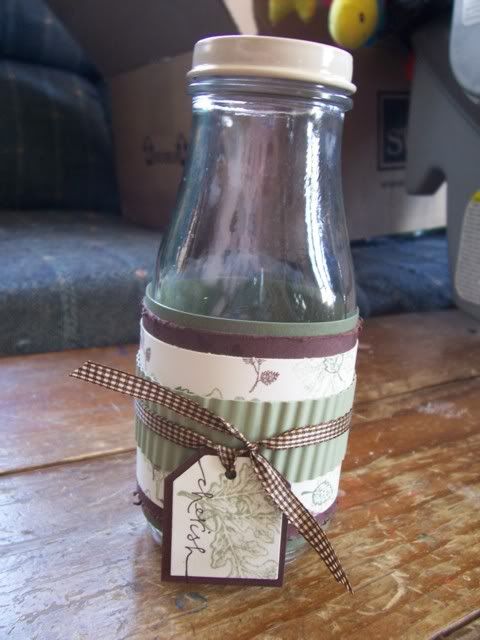 This is a little something I cooked up for a Stamp Camp my cousin did when she was here over Memorial Day weekend. I had the bottles, and she didn't, and she needed an example made, so this is what I came up with. These are the Frap bottles that are Starbucks's brand. I think I am going to fill it with chocolate covered raisins for my father-in-law for Father's Day.
I removed the labels after letting the bottles soak in water for a while, then scrubbed off the excess label glue with an SOS pad. I also spraypainted the lid to cover up the lettering.
I used SU! products for this bottle:
Stamp Sets:
Warm Words
Lovely as a Tree
Cardstock:
Very Vanilla
Chocolate Chip
Mellow Moss
Always Artichoke
Inks:
Chocolate Chip, Mellow Moss, Always Artichoke.
Tools: Paper crimper, small and regular tag punches, 1/8 whole punch, ribbon of your choice, circle punches for top of lid, and Mono Multi Liquid Glue.
* I didn't get a pic of the lid top, but we layered two sizes of circles with leaves stamped on the smaller one, and glued them on the lid. Really made a nice finishing touch.