Remember when I said on Facebook that I was gonna scrapbook on Sunday? I did get it done, just not until Monday! I was kind of "stuck" as to what to do with the title...I wanted it in a circle, but I couldn't get the letters stamped evenly. Then I found these "Thickers" letter stickers at Michael's and knew they were perfect! Much easier to position, too! This is a photo that I took the first day we brought Brodie home. She was so tiny back then! And yes, this was in Cody's "long hair" stage, 3 years ago. I had the photo printed at
www.scrapbookpictures.com
where you can add all kinds of borders and enhancements. I get a LOT of my photos printed there...they have a ton of sizes to choose from, 3 different finishes, and a million different combinations of borders...I just love this picture!! I do believe this was the one and only day Brodie was remotely calm....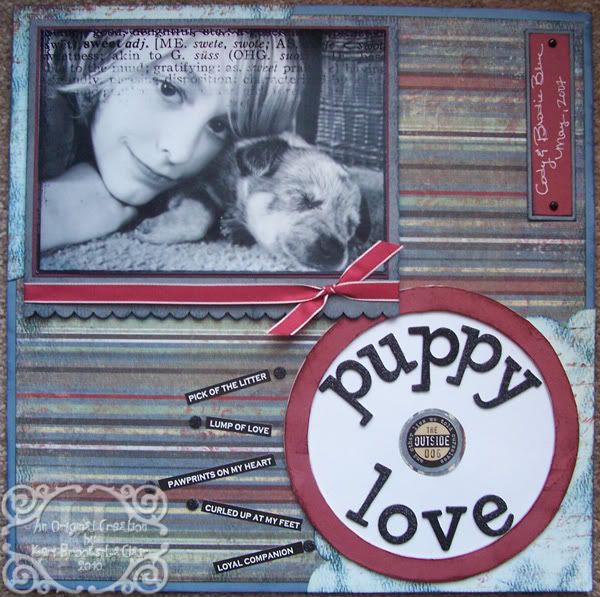 Here is a close up of the letters..yep, they *are* glittery! And the sticker in the center had such a cute saying on it...They are from a whole sheet of doggie stickers from the lovely Lisa Renea ! See? I am using them! Love em, LR! I framed the white cardstock circle with a round chipboard ring from Stampin' Up!. Patterned cardstock is My Mind's Eye, solid cardstock is from SU! Letters are Thickers and other stickers are from 7 Gypsies.
The last shot just shows another close up of some of the other stickers from the sheet that I used. I added little "bullets" by each saying, using the extra stickers from the letter sticker package. I think they were periods or colons or some such.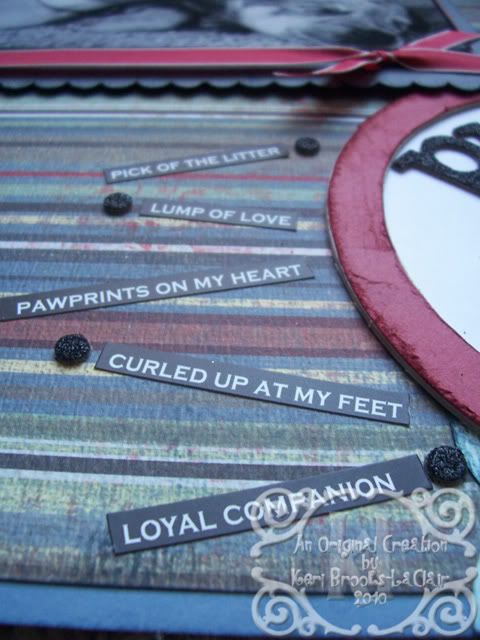 Thanks for stopping by and checking out my latest creation! I have a whole stack of photos and ideas brewing in my brain, so hopefully, more to come!!
**Keri**