Okay, so SOMEHOW weeks went by, and I got way behind on Nancy's Gothic Arch Challenge. I had done the Fall one way back when, but never got it posted, and then it was downhill from there! So here are my Gothic Arch Challenge Submissions for Weeks 5, 6, 7, and 8, if my calculations are correct!
Week 5-Sept. 23-Fall Challenge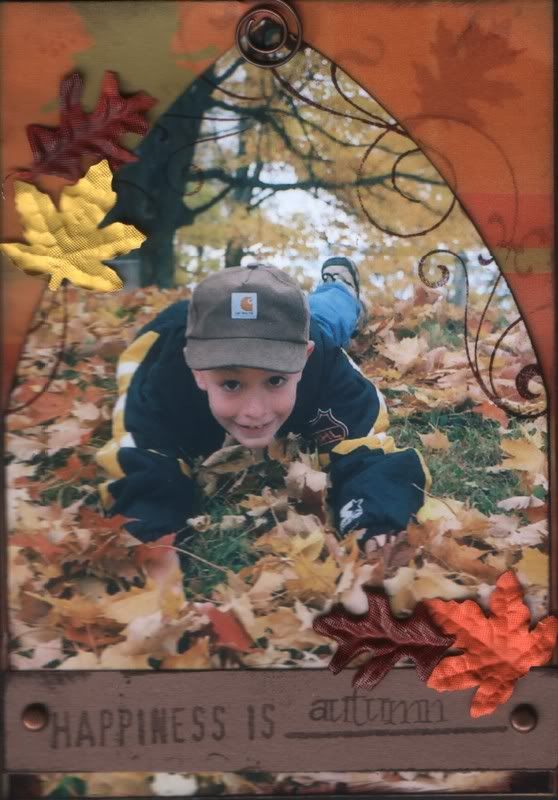 Purple Onion Designs Stamps, and several scraps of Paper. Also used some tiny leaves from a pack I bought to put in my fall village- They were perfect!
Week 6- Sept. 30-Vacations and Places
This one started out to be hard, I did not know what to do, and as I was browsing, I remembered this photo a friend had taken of me about a mile north of our house. It is an unguarded portion of the US/Canadian Border, and there are monuments like this one every so often, up and down the line. Everyone has to get their picture taken "half and half" so to speak. Tacky, I know, but fun nonetheless!
Stamps are Buzz and Bloom, and paper scraps are Scenic Route.
Week 7-October 7-Flowers
This one was easy for me!! I have so much with flowers on it. I decided to use a photo I had just taken before the hard frost hit-these are the morning glories that grow every summer on the railing of my ramp in front of my house.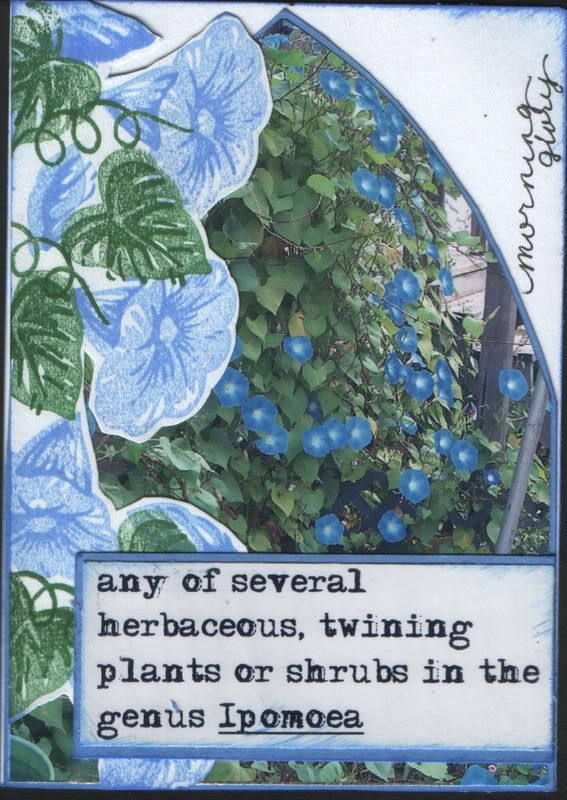 Scraps of cardstock, Stamps and Ink are from Stampin UP!
Week 8-October 14-Party!!
This one was fun. I found this cute retro photo online, and just dressed it up a bit. Love how excited the kids look, and they are so dressed up for the party!!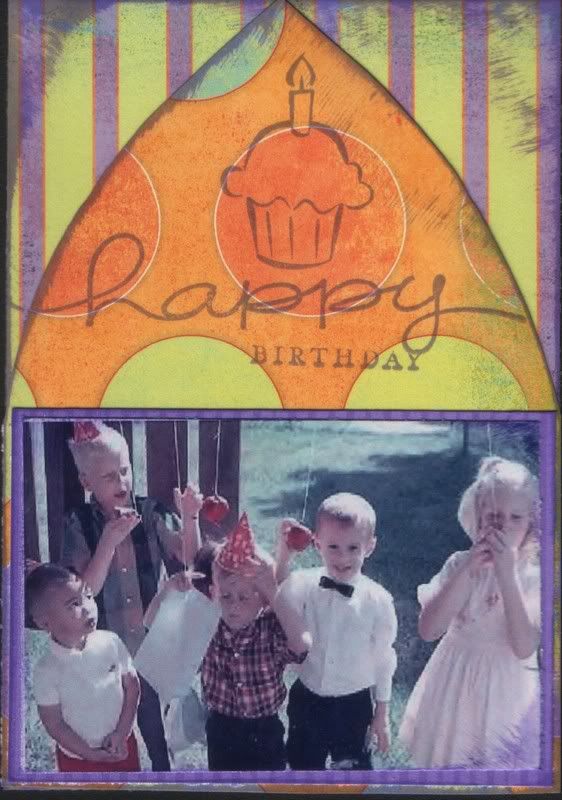 Scraps of paper are "I don't remember" and Stamps and Ink are SU!
For Nancy
Last, but certainly not least, is my Gothic Arch for Nancy and her son, Andrew. You can see more about this project here. It is a section from a vintage postcard that says "Greeting from a patriot" (covered up by my ribbon!!) Nancy, my thoughts and prayers are with you and your family at home, and Andrew abroad. I pray that the Lord watches over Andrew, keeps him safe, and gives him wisdom. I also pray that He gives you comfort and strength. If there is anything I can do, let me know. If he needs care packages, cards, toiletries, etc-don't hesitate. He is protecting me, and my family, and anything we can do we will. Keep your eyes open for this to arrive in your mailbox!! Love, Keri