I have a couple of pages to share with you today!! A lot of my pages are for Buzz and Bloom and have to go there first, but these were just ones I did "because".
This first one is typical of me with my bright colors..the brighter, the better! This is my niece, Miriam Grace. She is now 10 months old! This photo was taken back at Easter time. I tried to tweak the scan, cause she looks a little purple, but I couldn't get it any better...She looks regular on the actual page, I assure you! She goes by many names, depending on everyone's mood or preference. Her name is Miriam Grace, but she is Mimi, Miri Grace, and Meems. I call her Meems...that is MY original name for her! Isn't she beautiful? And, she is gonna be a big sister in just 3 short months!!



Here is what I used: Basic Grey, Oh Baby Girl PP. Doodlebug Bazzill Cardstock. The flower is from a package Lisa Renea sent me...Told you I was gonna use it, LR! The green Chipboard letters are from Walmart...I don't remember the brand. The large chipboard flourish is part of a 12x12 sheet-but again, don't remember the manufacturer. I painted the flourish with purple acrylic paint, then coated it with a layer of paint on glitter. I also put some of the glitter on the already green chipboard letters. The stamps are SU! Tall Tales Alphs, Autumn Leaves Alpha, and the arrow is from Buzz and Bloom. Tab is from the round tab punch (SU!) and the giggle word is also from SU! (Warm Words) Ink is SU! Ribbon is from Joann's.



This page I did as a gift for a friend of my Mom's. It is based on the song " I Want To Stroll Over Heaven" that is on the Alan Jackson "Precious Memories" CD. It has some great songs on it! Anyway, I had her son email me her wedding photo. It is fabulous! Her husband passed away suddenly a few years ago, and this song makes her think of him. She is a wonderful, giving, caring Christian woman, and I wanted to do something for her, since she always does so much for everyone else! For some reason, I can not figure out how to make my images "clickable" to open up larger in a new window, so you probably won't be able to read the journaling. It is the chorus of the song that the page is themed around. If anyone can tell me what I am doing wrong with the photos- PLEASE!! drop me a line!! I upload my photos to photobucket.com and post the photos onto my blog using the "direct link" link that they give me. Maybe I am using the wrong link?? IDK.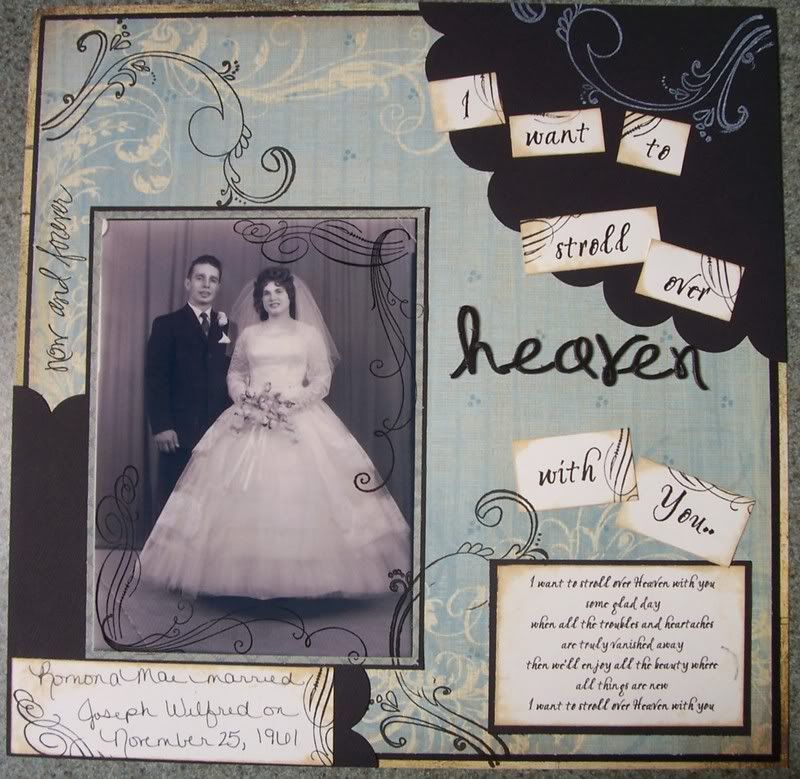 Supplies: Patterned Paper is K& Co., and Basic Grey. CS is Bazzill, and SU!. Stamps are from Purple Onion Designs, and Autumn Leaves. Making Memories Rub on, Ink is Colorbox White, Staz On Black, and Tim Holtz Antique Linen distress ink.