Do you remember when you first started blogging? I do. I don't even know what made me start. Probably just to show off my crafting, mostly. I loved the Pioneer Woman and wanted to share what life was like up here in the North, and I love how she presents her way of life. It was off and on at first. I have found that it is definitely something you have to work at. I still have a few dry spells now and again, but I finally feel like I have a pretty good, established blog, heck, I even have 5 followers now! The one thing I always live by is that I have to put in as much as I receive. That being said, my friend and demo Judy has jump started her blog. IF YOU CLICK HERE you can see her blog, her latest creations, and how talented she is. Mosey on over and give her a shout out. Tell her Keri sent you. She is a great gal, friend, and now my demo for SU!. She has some great ideas!
Okay, now, on to more crafting topics. My first craft camp was on Friday night! I have to admit, I had not had a very good afternoon-you know, one of those days where bad news hits you from every angle? That kind of day. But I pulled up my big girl panties and everyone arrived despite the horrible fog we had! We made the reinker/glitter glass ball ornaments, and I taught the Magic Colored Pencil Technique. Both projects were well received, enjoyed, and boy was it crazy with 10 women here all let loose on a Friday night!
So, I am happy to announce another craft camp! For all my faithful readers who are also members of my stamp group, it is scheduled for Nov. the 28th, (black friday) at 6 pm. We will be doing two projects again. The folded German star ornament, and the paper pine cone ornament.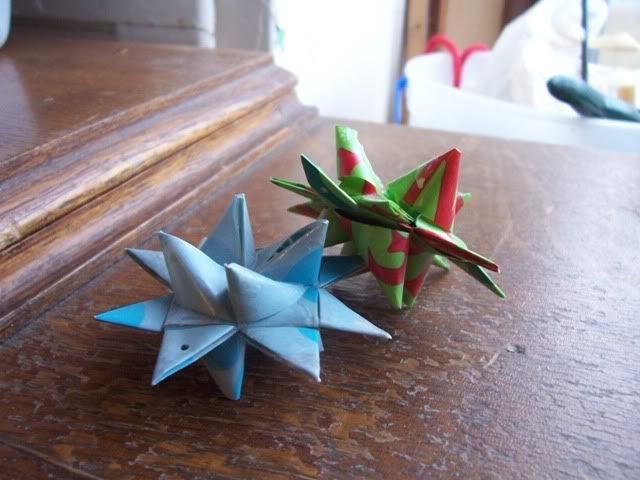 I think many of you will remember this little project of mine from last year!?


I actually found an online source for the paper strips-I have never ordered from them before, but they seemed reliable, quick to respond to my inquiries and I am hoping that this will solve my problem of making my own strips. I will keep you updated on that!

This is the paper pine cone ornament-I made a few of these last year, and had some express an interest in learning how to make them. So two ornaments, using folded paper!
So that is that! I hope that the second workshop goes as well as the first one did-everyone seems excited! Have a great Monday everyone-I have a guest here with me today-my dear hunter husband got a layoff-hoping that it is only a short one-and he has a LIST of things to do-so if I am not back in a day or two, come find me? Please??
Have a great day!
**Keri**