Happy Friday Morning, everyone! Just in case I am more sick tomorrow than I am today, I thought I would get this up and posted NOW instead of waiting! These are pics of the Valentines I made for my lovees, and the towels I made for my dear friend Judy. She drives Cody to school most days and I like to do something special for her on Holidays. I USUALLY make her chocolate covered potato chips, but since she is doing Weight Watchers, I was warned to not make her any sweets!
I made a dozen cards this year, three different designs, and several different patterns of paper. I printed the vintage photos off the internet, and cut them, and the whole card out, using Nestabilities dies in my Cuttlebug.
The postage cancellation stamp is from Purple Onion Designs, as are all the sentiment stamps that I stamped on the photos. Ink pad is Red Staz On. The rhinestones are Martha Stewart adhesive backed.
The finished size is about 4.25 x4.25"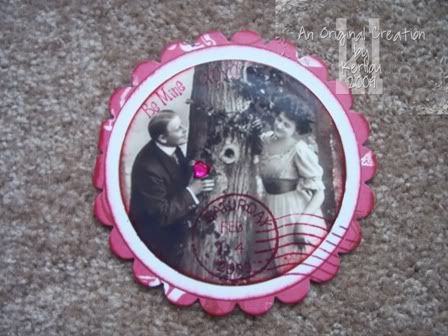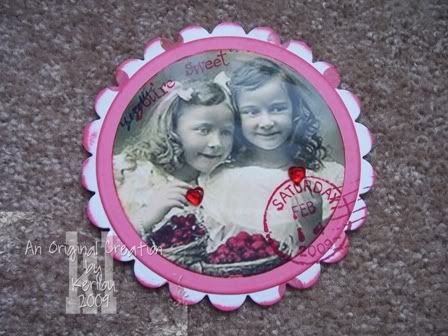 Now, this is the grand idea I had for my friend Judy. I wanted to crochet edging on towels for Valentine's Day, for her kitchen. I got a pack of 4 towels at Walmart. 2 red and 2 white. Lisa Renea found me this fairly simple pattern for edging, and after some guidance from the gals at 2peas Leisure board, I figured out how to crochet the edging directly ON the towel's edge. I did a blanket stitch on the inside edges of the towels, then crocheted onto that. It turned out pretty good for my first time! She *LOVED* them, so that was the main thing! I also made her a pink and white dishcloth, and a red pot scrubber, to complete the set. I have been making the scrubbers for a while, but recently changed my "formula" and now they are even better. More sturdy, prettier, etc. I crochet them with one strip of nylon mesh, and one strand of plastic canvas yarn, which is VERY rough yarn. I also stuck in a box of 10 calorie Oreo Cakesters for her to munch on. They are SO GOOD!



So, there you have it! My daycare kids all leave at noon today, and Cody is gone to Vermont on a field trip til 4, so I am headed to town to find him a Valentine's Day present. I am also going to get some stuff for a Valentine's Day pizza supper tomorrow, and probably something sweet for dessert! Thanks for all the well wishes, Cody is doing much better, and only missed that one day of school. I am under the weather, but not enough to keep me down. Mamas can't be sick!!
Have a great day!!
**Keri**