Good Friday Morning, everyone! Boy, am I beat. I am so glad it is almost the weekend! Cody recently decided to be in Spanish Club. Even though he does not even like Spanish. Typical kid, typical boy, and you will see where I am going with this in a minute. Apparently, there is a field trip next Friday. Over to Vermont to see the Flamenco (sp?) dancers at the Flynn Theatre. Well, that is reason enough to be in Spanish Club, right? Miss a whole day of school?! ALRIGHT! So if you wanted to go on the trip, you had to pay for your ticket, and make something for a bake sale (today) to help pay for the bus. She also requested that it had a Valentine feel to it, as the holiday is so close at hand. So when Mom and I went to town the other day, I picked up sprinkles, cello bags with hearts, and all kinds of baking supplies. I have been trying not to bake, so I hadn't bought any flour/sugar, etc. since the Holidays! I did a double batch of spritz cookies, in pink, and white, and I did a triple batch of sugar cookies, complete with royal icing and sprinkles. Cody did the sprinkles!
I think I made about 10 dozen cookies last night, at LEAST! I was so tired I was drooling. I finally got done, got them all packaged, and went to bed after 10 pm. I made 20 packages for the bake sale, and a special one for Cody's best school buddy, the nurse. Here is my recipe for sugar cookies. I have been using it for years, and it never fails! Always remember not to roll them out too thin!
Keri's Sugar Cookies:
3/4 cup butter
1 cup sugar
2 eggs
1/2 tsp. vanilla
1 tsp. baking powder
1 tsp. salt
2 1/2 cups flour
Cream together butter and sugar. Add eggs and vanilla. Sift in flour, b. powder and salt. Let chill until easy to work with. Roll out to a 1/4" thickness and bake at 350 for 5-7 minutes.
*I don't let them get brown at ALL. Not even a litte bit.*

Royal Icing (from Martha Stewart dot com)
2 cups conf. sugar
2 1/2 tblsp. meringue powder
1/4 cup water.
Blend well and add coloring if desired!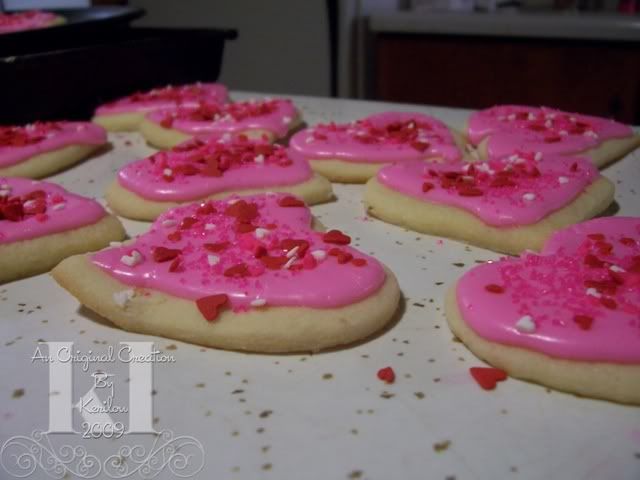 I used a zipper bag with the tip cut off, for the icing. I use an offset spatula to fill in the middle..Here is what the bake sale packaging looks like:
I used a cute punch with a Purple Onion Designs sentiment for the middle, and tied it with a pink ribbon. Purple Onion Link is in the sidebar!!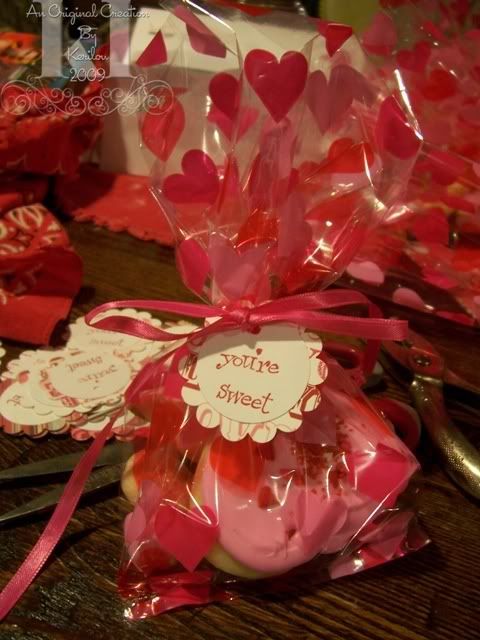 Here is the special treat for our friend, the nurse. I got this cute box at Michael's and loved it!! They have all kinds of prints for the holidays. I filled it with goodies and tied it with a huge grosgrain ribbon, and a sentiment tag.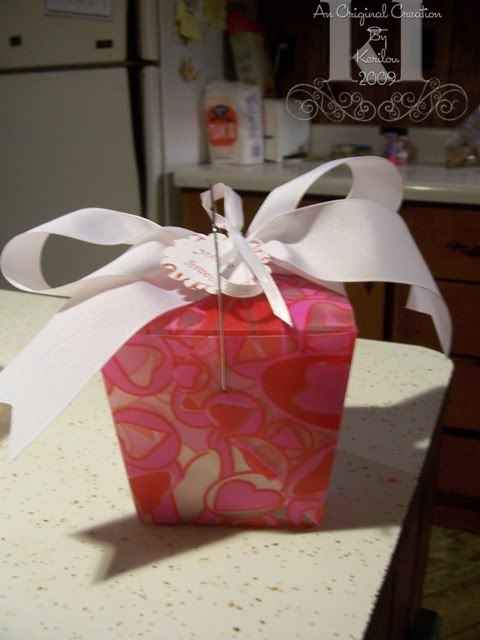 Now all I have to do is make up a tray for tomorrow's SU! workshop!
Have a great Friday!
**Keri**