Here is a huge mishmash of photographs from my Valentine's Day! I have to say, I was a very spoiled gal this year. I got MANY actual Valentine's, from all the special people in my life!! I grouped them in sets for the photographs, as I would like to keep my sanity with this lovely dial up!
These first two are from my friend Judy and my Mama! They are just gorgeous! Judy also sent me some treats that you will see below, and my Mom used the coolest mulberry cardstock with tiny hearts embedded in it!



These next two are the ones I made for Cody (top) and Peter (bottom). I actually made them a while ago, for Buzz and Bloom, and tucked them away until the Holiday arrived!


Here is the next grouping. Top left is from my buddy Brenna! This is her first card ever-she is a scrapbooker, and finally decided to take the leap! I love that is has my name on it, cause I NEVER find anything with my name spelled correctly!! Top right is a little card that my dear baby boy lifted off my card rack! In his defense, after he took it and hid it, he did come to me and ask me if it was okay that he did it. Bottom right is the card my lovely hubby gave me. He did buy it, but pointed out the fact that is WAS homemade looking, and I reassured him that it was indeed homemade paper. It had a lovely verse inside!! Bottom right is my Valentine from my daycare girls and their parents. Morgan, Reanna, Emily and Randy! It came with some Kissables, too!


These next two are from my best buddy Peg (I drew her to the dark side a few years ago, Buwahahahahah!!), hers is on the top, with my favorite set that I like to borrow, Loads of Love, and the cuttlebug embossed background, and the bottom on is from an online friend of many years now, Linda! Hers has some intricate handiwork, and a felted heart ornament that is detachable!!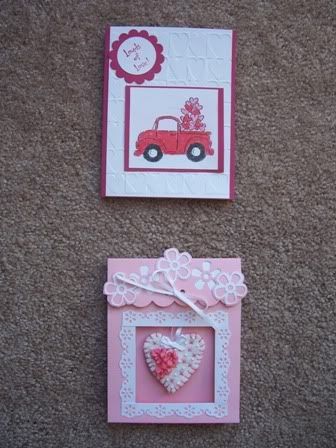 Last but certainly not least, as you can see from the empty chocolate wrappers, is the cute "candy wallet" that Judy sent me. You can visit her blog at www.stampinmyheartout.blogspot.com . This lovely was made with die cuts from the SU! Bigshot collection, and filled with lovely candies! Hit they spot, they did!!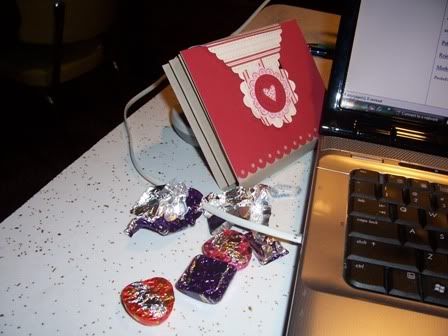 This is the little gal that came to live at my house yesterday. I have collected Boyd's Bears for about 10 years now. The longer time goes by, they fewer I have collected. I love them all, decorated with them-not CRAZY all over the place bears, but just one here or there. They are each very meaningful and special to me! ANYWAY, my hubby got this little lady with a knit sweater for Valentine's Day! She is very sweet. She brought me a pretty pair of earrings, too!



This is what else she brought me. A diamond heart pendant! I have been eyeing the heart shaped and circle shaped pendants like this for quite a while, and am not a HUGE jewelry person, but this fits me perfectly. Simple, understated! I am a very blessed wife!!


So that ties up our Valentine's Day! It was a wonderful day. I wrapped it up, half sick, with a pizza supper, and hot fudge pudding cake. Peter's Fave! I didn't get a photo, unfortunately! I will post the recipe below, though. We also watched The Dark Knight. I was quite apprehensive, but I am glad I watched it. I am a very tender person, and knowing that Heath Ledger is no longer with us is heartbreaking. BUT WHAT A PERFORMANCE!! I see now why is was nominated for an Oscar. I am not a big follower of the Academy Awards, but MAN I hope he wins!!

Here is the recipe::
(It is a Hershey's recipe)
Hot Fudge Pudding Cake
1 1 / 4 cups sugar, divided
1 cup flour
7 tablespoon cocoa, divided
2 teaspoons baking powder
1 / 4 teaspoon salt
1 / 2 cup milk
1 / 3 cup margarine, melted
1 1 / 2 teaspoons vanilla
1 / 2 cup packed brown sugar
1 1/ 4 cups hot water
Heat oven to 350 F. In large bowl. Stir together 3 / 4 cup sugar, flour, 3 tablespoons cocoa, baking powder, and salt. Stir in milk, butter and vanilla; beat until smooth. Pour batter into 8 or 9 inch square baking pan. Stir together remaining 1 /2 cup sugar, brown sugar and remaining 4 tablespoons cocoa; sprinkle mixture evenly over batter. Pour water over top. DO NOT STIR. Bake 35 to 40 minutes or until center is almost set. Cool 15 minutes; spoon into dessert dishes. Spoon sauce from bottom of pan over top of cake. Serve warm with whipped topping, or VANILLA ICE CREAM!! if desired.

We are on vaca this week. Winter break!! Thank you Lord! Have a blessed week-I have a fresh layout to share very soon!!
**Keri**