Easter is fast approaching! Are you ready? I am almost there. The cards are almost complete, the candy for the basket is purchased, and the bread dough is waiting in the freezer to be made into rolls for 2 dinners. I recently saw these great eggs on Tanya's blog (Sunday Baker in the right margin) and decided to make some myself! My friend Judy has a tree that she decorates for all the holidays, and I thought these would look cute! They are about the size of a pheasant egg-and I used embroidery floss with Elmer's Gel Glue. The starch I had was old, I think. She loved her eggs, and they are hanging on her tree for the holiday! They are messy to make, but so much fun!! I plan on making some round ones as Christmas tree ornaments in the fall.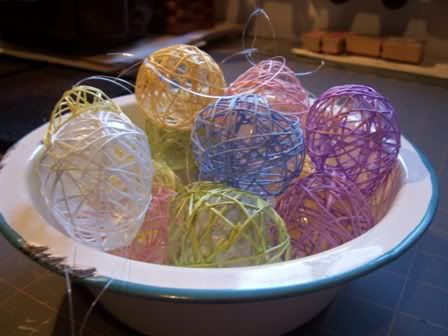 After two weeks of rain, and gray skies, I gotta say, I am really wanting some sunshine! This is getting really depressing!
A couple more days of school/work, and we will have a week off. Well deserved in this house right now, too!
Have a great day!
**Keri**