So, last week I introduced you to Humphrey-the pet, and Hamburg, the bull with a purpose. Well, let me introduce Humprey's work mate, or future work mate, Hawkeye. Apparently, Humphrey is destined to be a work animal, (ox) and of course, I was recently instructed that oxen come in pairs! So after many hours of batting eyelashed of BIG BROWN EYES, the boys got the go ahead from the boss (me..) and went and found a matching bull that fit the bill. So, Humphrey and Hawkeye are a team! To see more of what I am talking about, visit this site. It has a wealth of information. Hawkeye is just a few days younger than Humphrey, and even though he was still being bottle fed when we brought him home, he is already drinking out of a bucket, and doing well!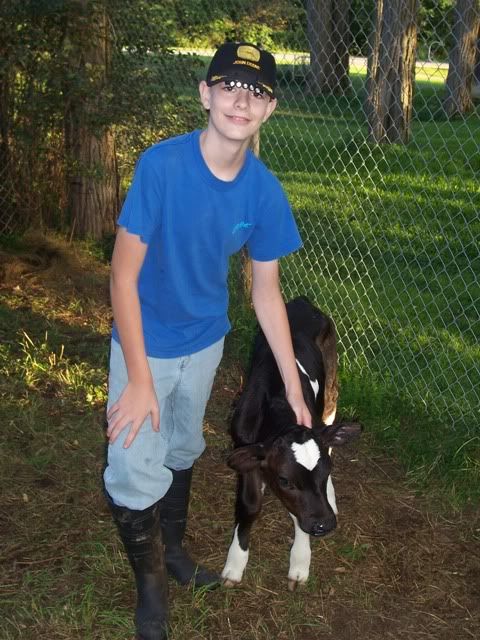 Here are Humphrey and Hawkeye together-quite a pair! They are a nice set-similar size and markings...Cody will start very soon getting them used to standing next to each other, always on the same side, and he is already getting them used to the harness on their head. Then they will start learning basic commands for walking, stopping, and left and right. This should be interesting! You can be sure I will keep you updated on the progress!



I also thought I would share my view with you...being without a job this summer, I have been able to spend a lot of time doing not much of anything...Many times in the afternoon I will sit out in Peter's trophy room with the door open, and Harley will join me. She loves to sit or lay in front of the screen door and watch for chipmunks. It is so peaceful to spend time with her out here, with the sounds of nature, and the cool breeze! Doesn't she look sweet?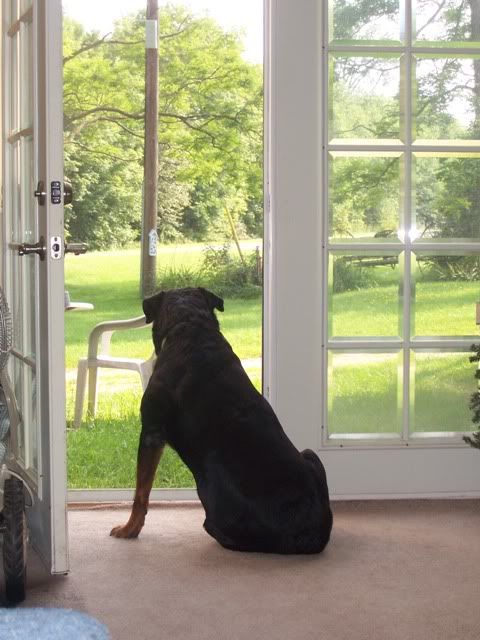 Have a Blessed Week!
**Keri**