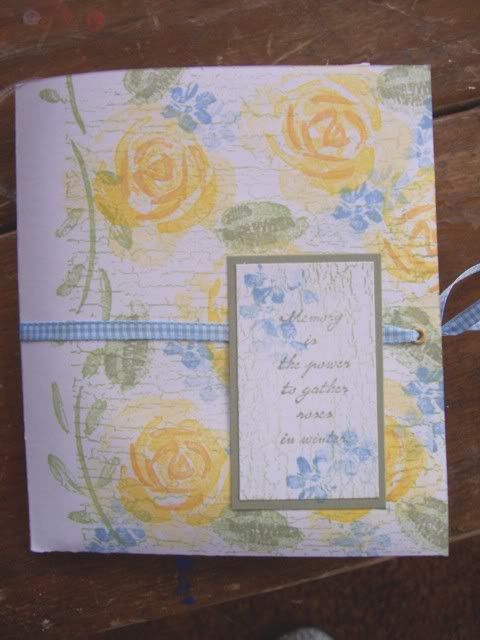 For my birthday, I got the cutest folio from Judy B. A friend of mine just celebrated a birthday on Monday--Happy Birthday, Lisa Renea!!!, so I decided to take the idea for the folio, and make one of my own to send to LR. I used Roses in Winter from SU! I have had the set since January, but had never used it. Boy was that stupid! I am loving this set!!
The folio starts out as a 10 3/4 x 9 inch piece of cardstock, stamped and embellished as you desire. As this was my first one, I stuck with the idea Judy had used on mine. Score the 10 3/4 side in half (5 3/8), and score the 9 inch side up 3 inches, for the flap. Before you adhere the flap with eyelets or brads, round the corners with a punch, to prevent the corner from sticking out due to the bulk of the envelopes and notecards. Stamp your notecards and envelopes to match, and tie a ribbon around the folio, and thread through the eyelets to tie a bow!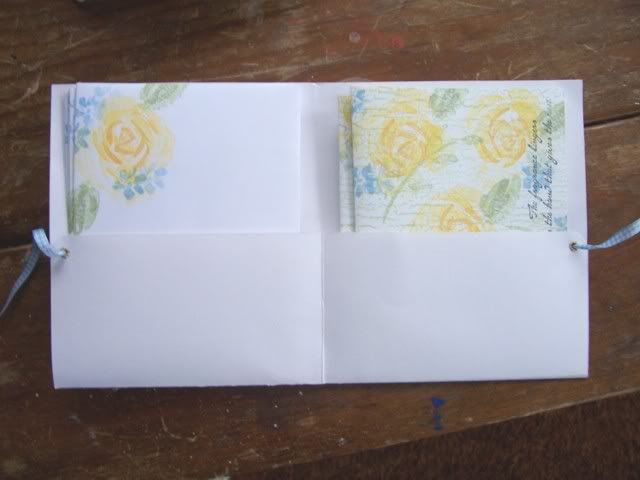 I used Roses in Winter from SU! I also used Barely Banana, Summer Sun, and Marigold Morning Inks, as well as Mellow Moss and Certainly Celery for the leaves, and Bashful Blue for the flowers. I used the Weathered background stamp from SU! on the folio before stamping the roses, and I love how it turned out! I stamped the sentiment from the set, and mounted it on Mellow Moss cardstock. Blue gingham ribbon is also from SU! I can see many more of these in my future! They would make great teacher gifts using Country Apple from SU! All credit for the project goes to SU!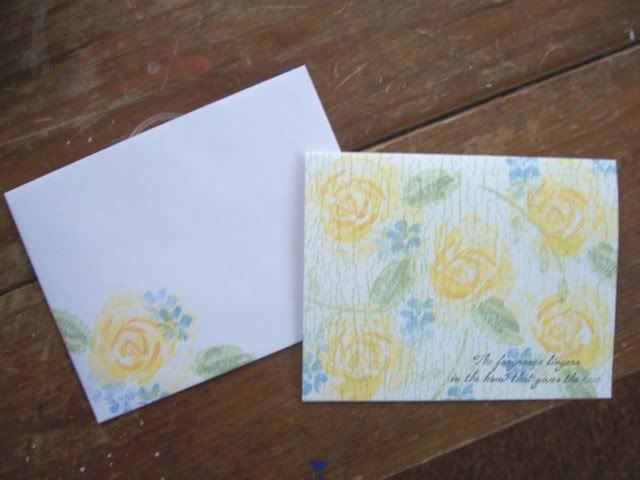 Independent Demonstrator Judy Bailey!